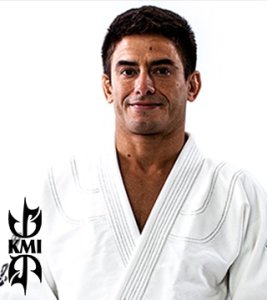 Flavio Meier is a three-time World champion and two-time Pan American champion who was born and raised in Rio de Janeiro, Brazil. Flavio started martial arts very early in life: First Judo at age 6, then Tae KwonDo at 10 years old, earning his black belt at age 17. Flavio began training Brazilian Jiu Jitsu in 1995 under the legendary Ricardo Liborio, World Champion (red and black belt from Carlson Gracie, founder of the American Top Team).
After moving to the United States, Flavio trained for over 10 years under Rodrigo Medeiros, another legend from Carlson Gracie Team. Flavio was awarded his black belt from Ricardo Liborio in 2009. In 2011 he moved to San Jose to help open the Institute of Martial Arts alongside Caio Terra.
Flavio is a traditionalist and loves to teach Brazilian Jiu Jitsu to kids and adults for self-defense, competition or exercise. Flavio is always looking forward to helping the average person learn Brazilian Jiu Jitsu or to push a more experienced fighter to the next level in competition.
Flavio now runs his own Brazilian Jiu Jitsu academy in Santa Clara, CA at the Krav Maga Institute headquarters. He also holds a Krav Maga Instructor Certification through Krav Maga Institute. In addition to teaching full-time, Flavio has been an very active competitor, winning every major tournament, and coaching many athletes to the top of the podium in every major BJJ tournament.
2x IBJJF World Jiu-Jitsu NoGi Champion (2015, 2014)
2x Pan American Jiu-Jitsu Champion (2015, 2011)
SJJIF World Jiu-Jitsu Gi Champion (2014)
US Open Champion (2014 x2, 2013, 2012, 2011, 2010)
Houston International Open IBJJF Champion (2011)
American Nationals Champion (2010)
Miami International Open IBJJF Champion (2010)
IBJJF World Jiu-Jitsu NoGi (2012 Bronze, 2011 Bronze, 2010 Bronze)>
Pan American Jiu-Jitsu NoGi (2011 Bronze, 2010 Silver, 2010 Bronze Open Weight)
San Francisco Open (2015 Bronze, 2014 Silver, 2014 Bronze Open Weight)
SJJIF World Jiu-Jitsu NoGi (2014 Silver)
IBJJF International Master (2010 Bronze)